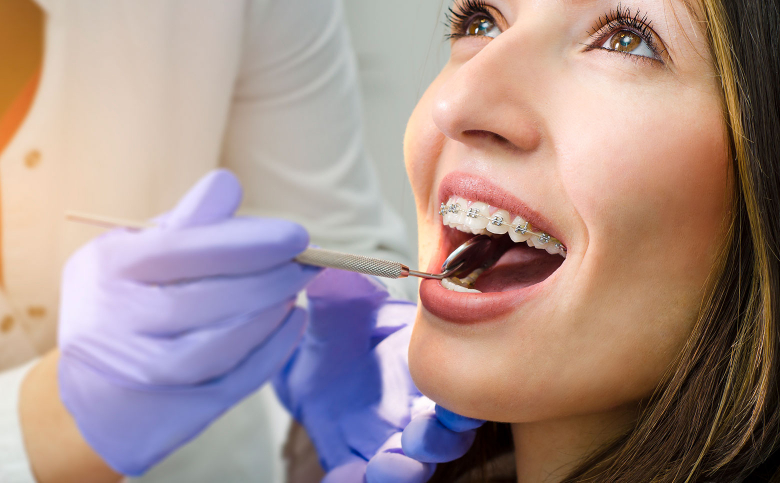 Orthodontic treatment
Orthodontic therapy can give you a harmonious smile in a very elegant and painless way, even when you are an adult person.
You should be aware that improper placement of teeth, despite perfect teeth, affects not only your smile, but also the function of chewing. Orthodontic therapy is performed with removable or fixed orthodontic appliances.  
Orthodontic therapy can be performed with different types of appliances:
1. Invisible orthodontic appliances - Invisalign
2. Fixed orthodontic appliances
3. Removable orthodontic appliances
1. Invisible orthodontic appliances - Invisalign
An elegant and invisible solution to most orthodontic problems is represented by an innovation from the United States, invisible Invisalign. The benefits of Invisalign orthodontic appliances have already been recognized by 5,5 million people worldwide, and the number is growing fast.
In Slovenia, we were the first dental center which started using Invisalign and thus obtained numerous experiences.
Invisalign is an orthodontic system developed by Align Technology, a world leader in invisible appliances. With a large investments in technological development they are now able to cover most treatments of severe orthodontic abnormalities.
The Invisalign system moves teeth with thin, transparent appliances that are virtually invisible, comfortable, worn 22 hours a day, and replaced every 14 days. The duration of treatment is shorter than conventional treatment and requires fewer visits to the orthodontist.
Even before you begin orthodontic treatment it is possible to see 3D digital animation of your treatment progress to the final result.
2. Fixed orthodontic appliances
Fixed orthodontic appliances are a great solution not only for children but also for adult patients, since aesthetic supports can be used instead of metal supports. With them we can solve all kinds of orthodontic irregularities. 
3. Removable orthodontic appliances
Detachable orthodontic appliances are usually used for children with milk or mixed teeth. They allow us to gain more space for growing of permanent teeth or affect the correction of functional abnormalities.